Bridging circular economy and construction
Description
We are happy to invite you to our next coming event on the topic of Circular Materials and Circular Constructions.
The event is co-hosted with the partners of the project Haus der Materialisierung, such as ZUsammenKUNFT, MaterialMafia, Kunst-Stoffe – Zentralstelle für wiederverwendbare Materialien e.V., and Lehrstuhl für Kreislaufwirtschaft der Technische Universität Berlin.
The core of our meet-up will be visiting historical and iconic building Haus der Statistik, where you will learn about the project, topics of circular constructions and why material recirculation is important during maintenance of such building.
Use this opportunity to meet and chat with the organisations, raise your questions, and share your ideas!
18.30 – doors are open
18.30-18.45 – group forming for the visit
18.45-19.30 – visit and discussion:
– Haus der Statistik: what it is about, how it started and where it is going
– Circular Construction: what Circular Berlin is doing around it, and how such projects support the topic of circular construction in Berlin
– Haus der Materialisierung: What is behind this project and how does it connect circular economy between secondary material use and construction via material recirculation
19.30 – networking
See you there on the 07.05!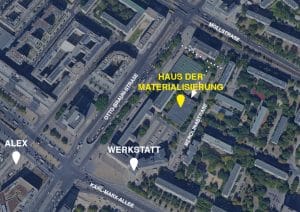 EVENT TYPE
Tour and meet up